For some businesses a simple website is all they need, hello Google Sites!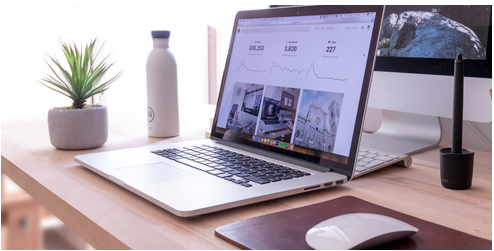 Google Sites is a free website builder that allows you to create a professional-looking website without any coding experience. It's a great option for non profits and small businesses that want to get their website up and running quickly and easily. As long as you have a Google account the service is free to use, making it more accessible than AI generated sites. In addition, you are able to connect a custom domain to it (depending on where you buy it from say up to $20 per year) so that it looks professional. Google sites is cloud based so no need to download anything to use it. As long as you have an internet connection you can technically access it anywhere. However when I tried to create a site on my iPad I got the following message.
With Google Sites, you can create a variety of different types of websites, including:
Business websites: This is the most common type of website created with Google Sites. You can use it to showcase your business's products or services, provide information about your company, or even sell products online.
Portfolio websites: If you're a freelancer or creative professional, you can use Google Sites to create a portfolio website to showcase your work.
Personal websites: If you want to create a website for yourself, Google Sites is a great option. You can use it to share your thoughts and experiences, or to connect with friends and family.
Google Sites is a very user-friendly platform. The interface is intuitive and easy to navigate, even for beginners. You can drag and drop elements to create your website, and there are a variety of templates (14 I think) and themes to choose from. ARC templates has some free ones available here.
Google Sites also offers a number of features that are helpful for small businesses, including:
Mobile-friendly: Your website will automatically be responsive, so it will look great on any device.
SEO-friendly: Google Sites websites have some optimisation for search engines.
Secure: Google Sites websites are hosted on Google's secure servers.
If you're looking for a free and easy way to create a business website, Google Sites is a great option. It's a user-friendly platform that offers a variety of features that are helpful for small businesses.
An example of a business site using google sites is here
Caevets for small businesses using Google Sites.
Just note that it won't have features that or other advanced builders have- however some small businesses do not require all the bells and whistles.
Limited storage (15GB)
Customisation options are very limited- making it difficult to have a customised layout and look.
SEO (Search Engine Optimisation) is limited.
No blog function (although you can connect googles Blogger to it- but you need a separate Blogger account)
No e-commerce built in (there are workarounds but could be a headache to figure out for small businesses that don't have time or skills in this area)
Limited support.
Benefits for small business using Google Sites.
Cost-effective: Google Sites is a free platform, so you won't have to worry about paying for hosting or domain registration. (unless using your custom domain- which we recommend for businesses).
Easy to use: Google Sites is very user-friendly, even for people with no coding experience.
Collaborative-Google Sites allows you to collaborate with others on your website, so you can get feedback and input from your team.
Secure: Google Sites websites are hosted on Google's secure servers, so your data is safe and secure.
Integrated with Googles other apps.
If you're thinking about creating a website for your small business or non profit organisation check out Google Sites. It's a great way to get your website up and running quickly and easily, however may not be the best option long term for most businesses.
Here are some tips for creating a successful Google Sites website for your small business:
Start with a clear goal in mind. What do you want your website to achieve? Do you want to generate leads, increase sales, or simply provide information about your business? Once you know your goal, you can start to plan your website's content and design.
Keep your website simple and easy to navigate. People should be able to find what they're looking for on your website quickly and easily. Use clear and concise language, and avoid cluttering your pages with too much information.
Use high-quality images and videos. Visual content is a great way to engage visitors and make your website more appealing. Use high-resolution images and videos that are relevant to your business.
Optimize your website for search engines. This will help your website show up in search results when people are looking for businesses like yours. Use relevant keywords and phrases throughout your website's content.
Keep your website up-to-date. Add new content regularly, and make sure to update your website's information if anything changes. This will help keep your website fresh and relevant.
If you are unsure which website builder is right for you contact us and we can talk you through it.